Equipment & Trading
Industrial DIY Epoxy, Tapes and Adhesives
We are the authorised distributors for a comprehensive range of industrial solutions for easy fix and easy repair.

---
Red Epoxy

Fix and Repair for most materials - High Pressure Adhesive
Pressure Resistant up to 21Mpa/cm²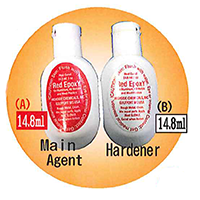 High Pressure 3000psi!
Easy & Quick
Oil, Gas, Fuel, Solvent Resistant
D350° F (176.7° C) ~ -40° F (-40° C)
Chemical resistent and more...
For Use on All Metals and Rigid Plastic
Including aluminium alloys, cast irons, copper and copper alloys (brass and bronze), magnesium and magnesium alloys, carbon steels, stainless steels, galvanized surface, PVC, CPVC, ABS, fibreglass, black polypropylene, Kyner.

---
RapidFix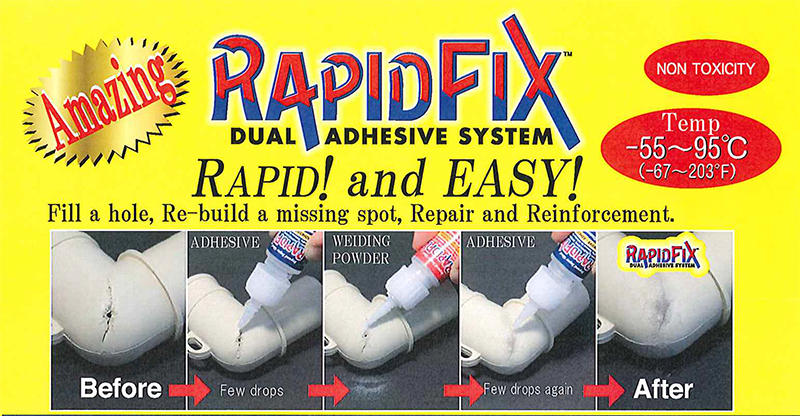 Repeat in same manner if more strength required.
Sand it! File it! Re-drilling! Re-tapping! Painting!
Metal, PVC, Plastic, Rubber, Wood, Pottery, Glass, FRP, Leather and many other Materials.


Chemical Resistance
| | | |
| --- | --- | --- |
| Ethanol | O | |
| Acetone | X | |
| Nitrate | O | (Concentrate X) |
| Gasoline | O | |
| Benzen | O | |
| Toluoles | O | |
| Xylol | O | |
| Hydrochloric acid | O | (Concentrate X) |
| Sulphuric acid | O | (Concentrate X) |
| Phosphoric acid | O | (Concentrate X) |
| Sodium hydroxide | O | (Concentrate X) |

---
Arlon Tape Grey
Self fusing silicon tape
| | | | | |
| --- | --- | --- | --- | --- |
| Code | Size | Diameter | Unit | JAN code |
| SRG-2 | W25 x L2000mm | 50A | 24 | 4560361000331 |
| SRG-5 | W25 x L5000mm | 50A | 12 | 4560361000348 |
| SRG-11 | W25 x L11000mm | 50A | 6 | 4560361000355 |
| SRG-38 | W38 x L6000mm | 100A | 8 | 4560361000362 |
Non Toxicity!
Piping (Stainless, Copper, Steel, PVC) Joint, Drain
About 10kg/cm² pressure

---
Rector Seal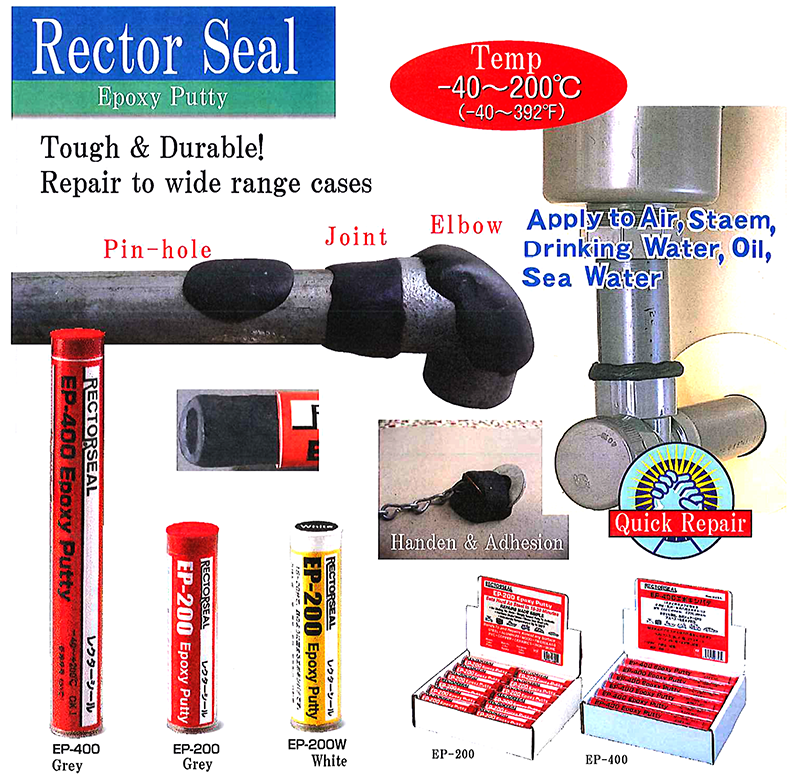 Piping (Stainless, Copper, Steel, PVC) Joint, Drain
Air conditioner (Duct, Unit, Fan)
Electrical Machinery (Housing motor, Shaft)
Industry (Equipment, Pump, Housing)
Car (Oil tank, Engine block, Fan, Muffler, Oil pan, Radiator)
Ship (Bottom, Piping, Motor)
Agriculture (tool, Machinery)
D.I.Y (Tile, Wall, Piping, Cabinet, Door)
About 10kg/cm² pressure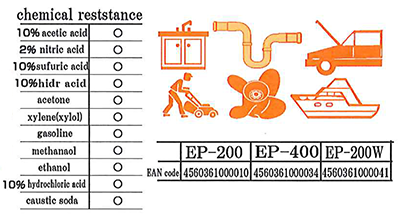 ---
Wet and Roll up High Tape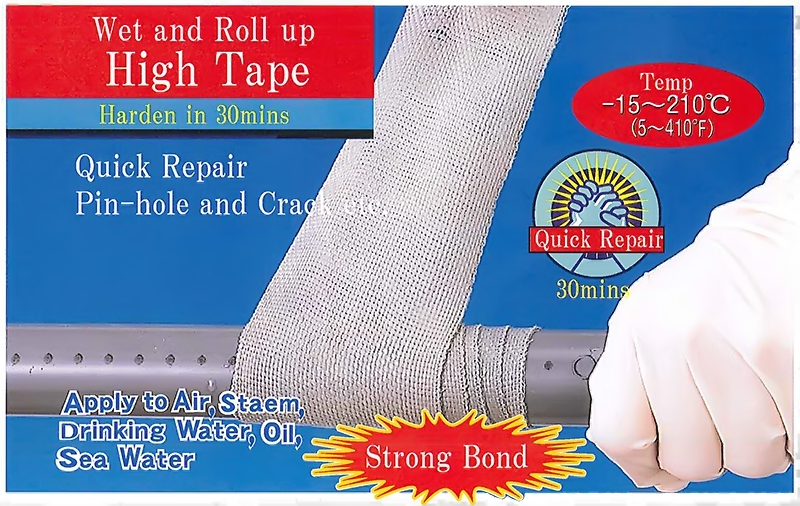 Apply to various cases
Factory, Plant, Piping, House, etc...
Piping (Stainless, Copper, Steel, PVC)
Elevated Tank, Aepic Tank, etc...
Making machine, Construction machinery, Oil piping etc...
Repair and Reinforce Vessels equipment in Voyage.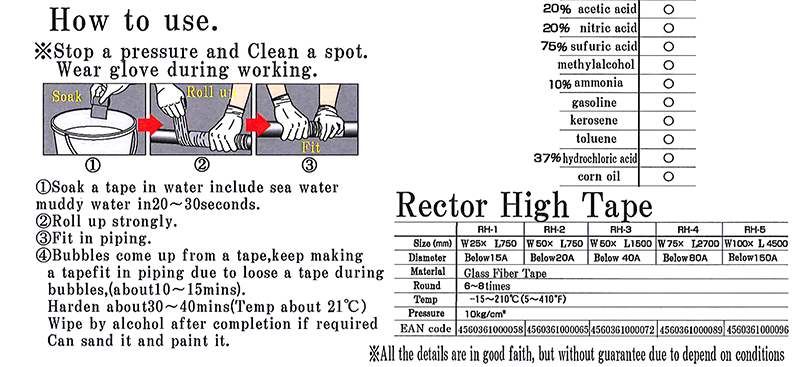 ---
Wet and Roll up Quick Tape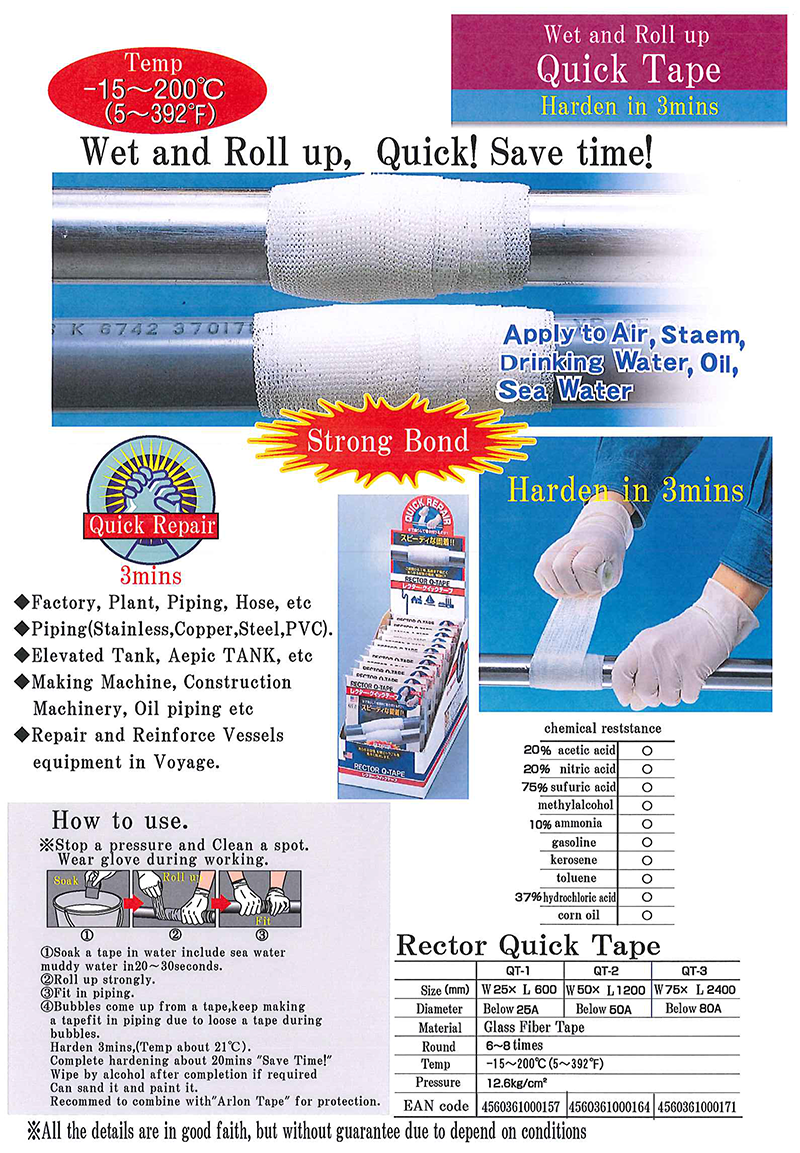 ---
Sun Sheet
FRP Repair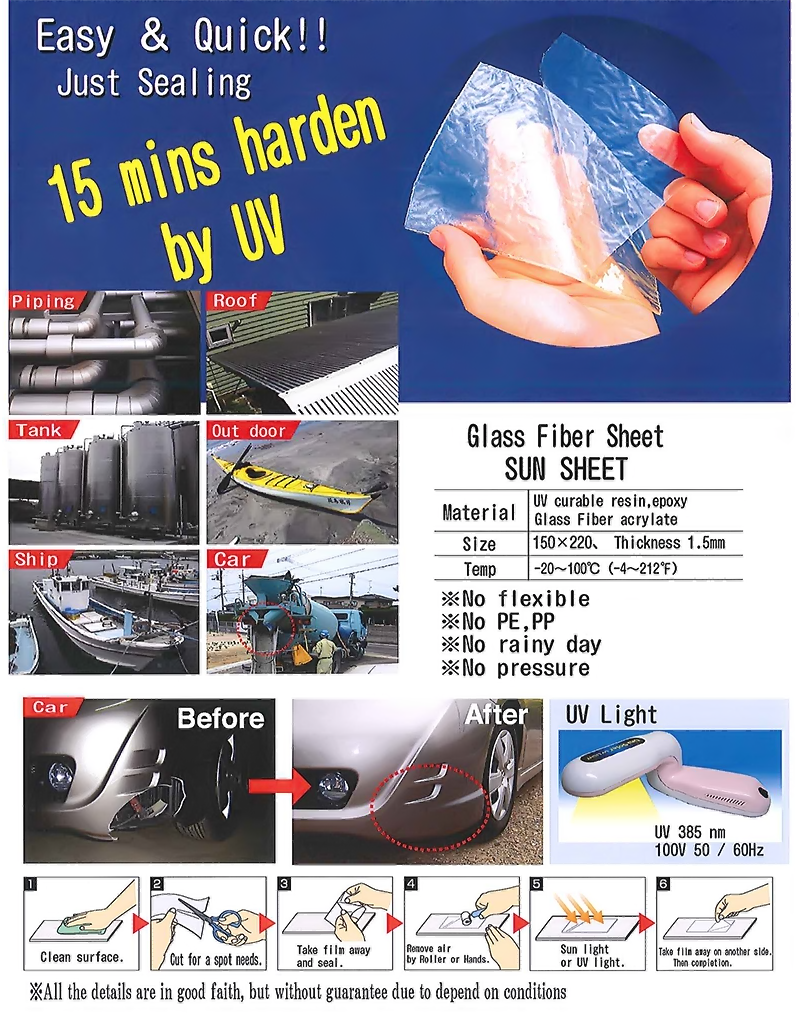 ---
Unisolar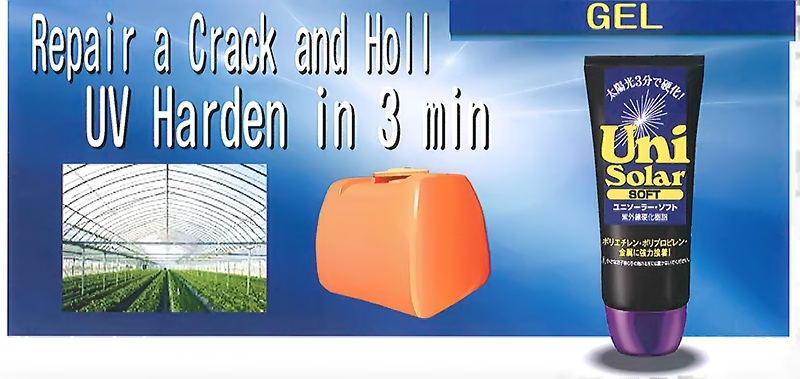 For soft surface and vibrated spot.
Material: UV curable epoxy acrylate resin
Temp: 105° C (221° F)

Instructions
Clean a surface
Make a sand.
Apply and 3mins harden by UV.
Patch a film during for making beauty completion
All the details are in good faith but without guarantee due to depend on conditions.
---
Sabi-Change
Anti-Rust for deck, engine room - No fire and Easy!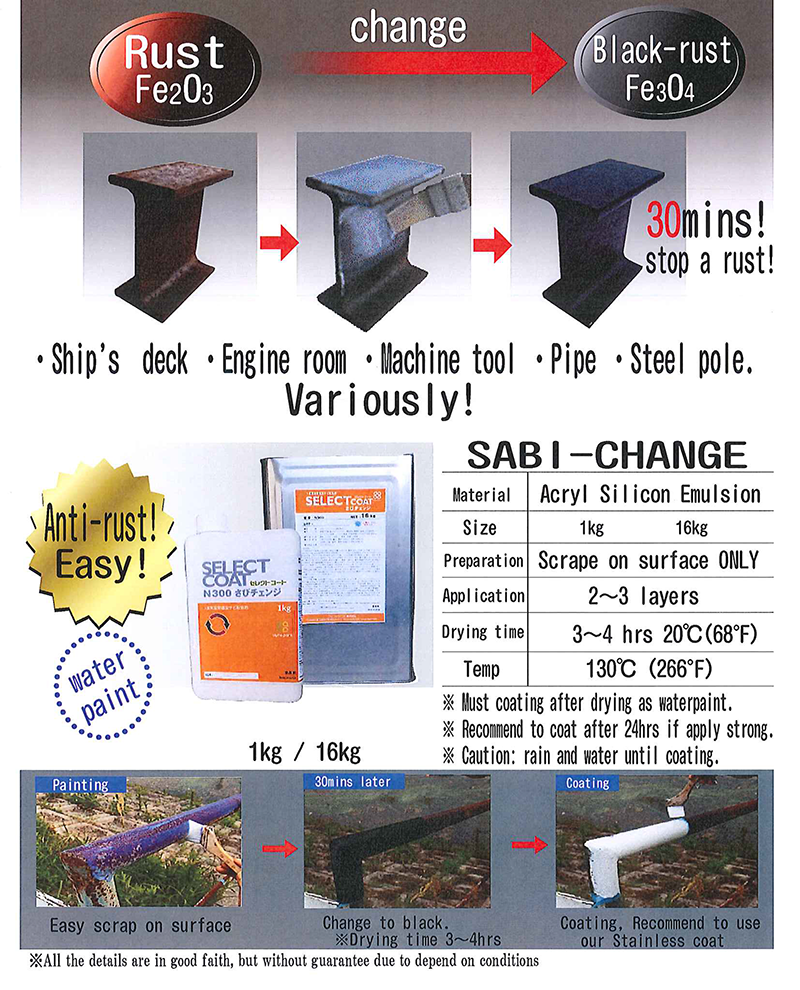 ---
Stainless Coat
Easy and Quick Stainless Paint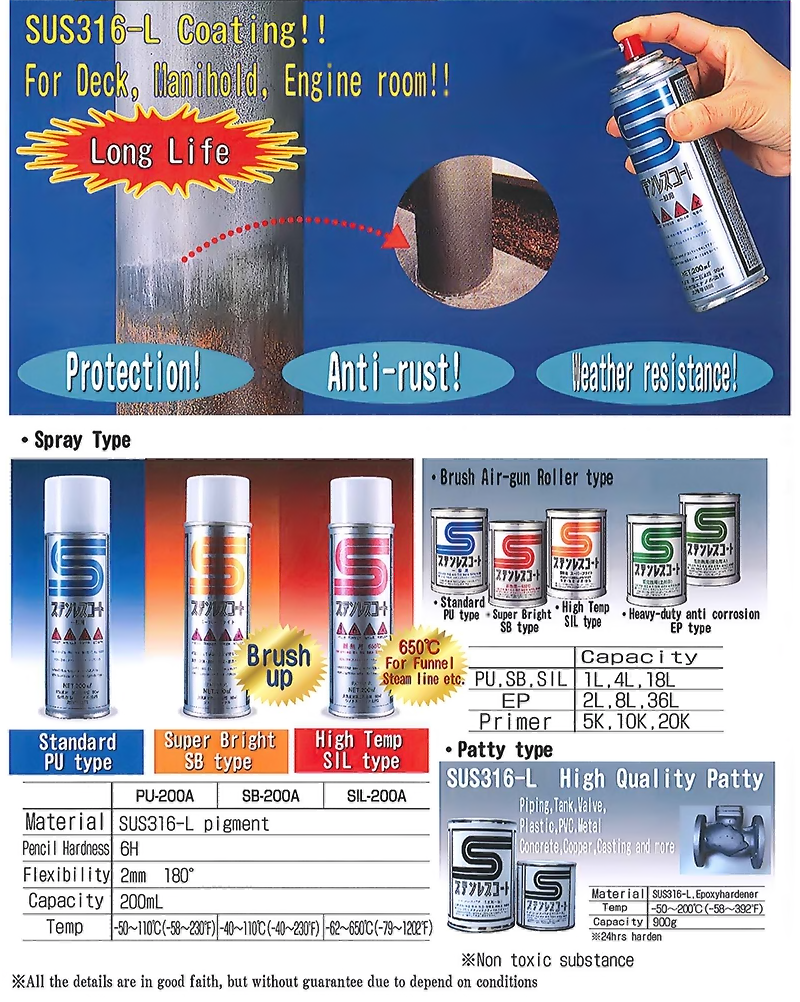 ---
Resbond™ 907GF
2300° F Adhesive and Sealant Putty - Bonds, Seals Fills and Protects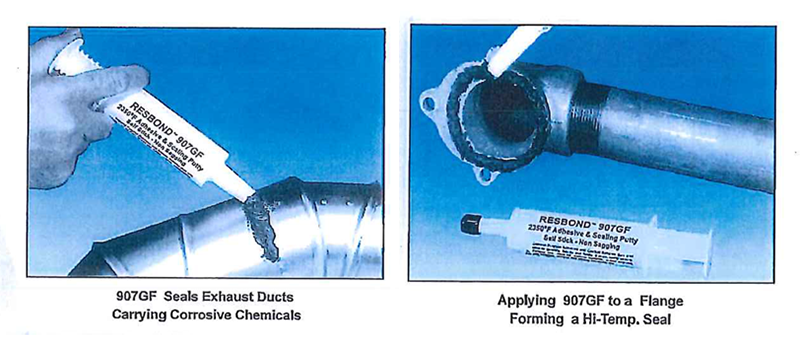 Resbond 907GF Fireproof Adhesive and Sealant is a moist, creamy putty for use from -300°F to 2350°E.
It is easily applied from standard caulking cartridges and air dries in 4- 12 hours at room temperature. (Curing may be accelerated with mild heat).
Resbond 907GF has excellent adhesion to clean steel, stainless, iron, most metals, ceramlcs, ceramic cloths, tapes, gaskets, tadpoles gaskets, etc.
Resistant to most chemicals, solvents, oxidizing and reducing atmospheres, aging, thermal cycling, and electricity.
Applications Include:
Bonds - Ceramic tapes, metals, ceramics, glass, assemblies instruments, etc.
Repairs -Exhaust systems, diesel engines, gas turbines, heating plant equipment, ceramics, fire bricks, mortar etc.
Assembles - High temperature equipment, brazing fixtures, brazing supports, stacks, etc.
Seals - Exhaust systems, stacks, flues, gaskets, fills surface irregularities, etc.
Users Report:
Resbond 907GF seals exhaust ducts against corrosive chemicals and high temperatures.
Resbond 907GF replaces ceramic gaskets and successfully seals p~pe joints for use up to 1800°E
Resbond 907GF bonds over lapping layers of stainless steel to form air ducts for furnaces that operate at 1200°F continuously.
Packaged in convenient dispenser tubes and standard caulking cartridges.
Resbond 907GF is ideal for use in any high temperature Assembly, Production, Repair or Maintenance Application.
| | |
| --- | --- |
| Physical Properties | 907GF |
| | |
| Max Use Temp | 3000 °F |
| Continuous Service Temp | 2350 °F |
| Density # / ft³ | 65 - 80 |
| Compressive Strength psi | 1500 |
| Elongation % | 5 |
| Specific Heat BTU/# °F | 0.25 |
| Dielectric Constant @ 10³ cps | 3.0 |
| Volume Resistivity ohm-cm | 10³ |
| Dielectric Strength Volts/mil | 145 |
| Thermal Cond. BTU in/ °F hr, ft @ 500 F | 6.0 |
| Shrinkage % | 2 |
| Shelf Life (Months) | 6 |